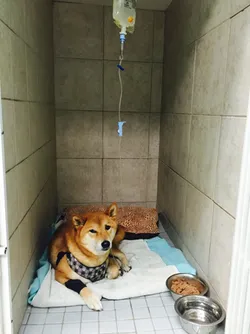 We're pleased to offer the following services at Atlantic Animal Hospital:
Spay and Neutering
Dentistry
Vaccinations
General Surgery
Orthopedic Surgery
TPLO
Bone Plating
Digital X-Rays

Radiology

In-House Blood Testing
VACCINATIONS
In order to ensure optimal immunity we recommend an annual exam & vaccination for your pet. To effectively prevent potentially serious canine diseases like distemper, parvo, rabies, and hepatitis. Not only can regular vaccinations protect your pet's health, they can also keep the human members of your family healthy as well.
DENTISTRY
Did you know that 4 out of 5 dogs over the age of 3 years have some sort of periodontal disease?
It can be caused by the buildup of plaque, so it's important to go in for regular dental checkups and cleanings Dental disease can actually lead to problems with your pet's organs,
such as the heart, kidneys and liver. Caring for your pet's teeth can prevent other health problems,saving you tons of money over the long term!
DIGITAL RADIOGRAPHY
Radiography is a valuable diagnostic tool in veterinary medicine. X-rays allow us to see many things we would not otherwise know about your pets. Radiography can be used to evaluate almost any organ in the body, including the heart, lungs, and abdominal organs, as well as the bones. We most often use x-rays to help diagnose a dog or cat's issues as it is one of the best tools. Being that our pets cannot directly
tell us what a problem may be, having an x-ray done is often helpful in offering up a clearer picture of the problem so our veterinary team can come up with the appropriate solutions.
(IN HOUSE) BLOOD TEST
Our NEW In house blood test offers a basic group of tests, which provides information regarding many general health problems. These tests can help point to a diagnosis, particularly if the animal has signs and a history that could make it difficult to determine the problem. Based on the results of this group of tests, other tests may be carried out as needed to reach a definite diagnosis.
GENERAL SURGERY
We perform routine surgeries that include spay, neuters, lumpectomy and many more.
ORTHOPEDIC SURGERY
Fracture repair, TPLO, TTA, Extra Capsular Technique, etc.
ANESTHESIA
Sedation and anesthetic practices are used for many reasons ranging from minor examinations in difficult pets to major surgical procedures.
We use different types of sedation & anesthesia depending on a number of factors. For example, species, breed, and general health condition of your pet are very important to consider before attempting any type of anesthetic induction. While modern anesthetic risks are low, approximately 1% in healthy animals. Those risks are higher in animals who are older or have underlying health conditions. We strongly recommend pre-anesthetic blood testing to cater to your pets individual health needs and to determine your pets general health prior to inducing anesthesia.
ULTRASOUND/ENDOSCOPY (done by On-Call SPECIALIST)
Ultrasound is a quick and painless way to visualize your pet internally. We often use this technology to check for issues and conditions relating to the following organs of the abdominal and chest regions: Liver, Intestines, Gall bladder, Urinary bladder, Spleen, Kidneys, Adrenal glands, Uterus, Prostate, Stomach. An ultrasound requires minimal preparation beforehand, but because pets must lie still for this, sometimes mild restraints and sedatives are required. Depending on what part of the body must be targeted with the ultrasound, some shaving of the abdomen or chest may be required. Very much like an ultrasound performed on a human, a conductive gel will be applied to the surface skin and a probe will be gently guided along the area.
MICROCHIP
Traditional modes of identification, like pet tags or ID collars, need to be replaced regularly—and can slip off, be removed, or become hard to read— but MICROCHIPS last for the life of the pet. Your cat or dog's microchip implant gives your pet the best chance of returning home to you if lost. The microchip must be registered along with your current contact information in order to identify you as your pet's parent and contact you.
PRESCRIPTION FOOD
We carry 2 of the best brands in the market such as Hills & MCRC Royal Canin!
NUTRITION
Our pet food manufacturers such as Hills & Royal Canin work hard to
determine the exact formula that goes into their products so that they provide
everything your dog needs on a daily basis. Our shelves are always stocked with prescribed veterinary diets to ensure your pets health is priority!
APPOINTMENTS
for faster service on booking your appointment, please CALL our hospital line at 604-584-6677